Saturday was Benjamin's day. We all woke up bright and early for the Spring Classic Kids 1 Mile, which was the second time Benjamin has run this race. The weather was cloudy and cool, but not wet - thankfully. Benjamin finished the race in record time, 10 minutes, 30 seconds and was very pleased with himself that he "passed lots of kids and also big people!"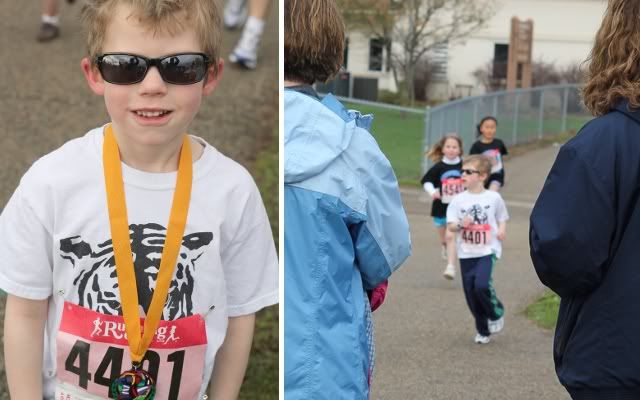 In the evening we headed over to Benjamin's school for the "Spring Round-Up," which is a new event featuring musical performances by kids from Kindergarten to sixth grade. Benjamin had been rehearsing the two songs that he and his fellow Kindergarteners from his classroom and the others with their music teacher for quite a while. They sang "Do Re Mi" from
The Sound of Music
and "This Land is Your Land." Benjamin introduced the songs by reading a little background on one of them:
Please forgive the lousy video quality. I'm still working on taking videos with my new camera on the fly. I have to focus the lens before each video and with things moving so quickly, I sometimes forget. This next video is the beginning of the "Do Re Mi" performance. At first glance, you may think that Benjamin keeps looking at the kid standing next to him because he needs some guidance on the hand motions, but as you get further along in it you can see that he actually is doing it because this kid isn't singing the song correctly and Benjamin is trying to help HIM!